Our Sustainability Focus


Sustainability means "meeting the needs of the present without compromising the ability of future generations to meet their own needs".
Sustainability is central to how we at RNN Group operate our business and – although an ever developing area for the Group, something that all staff and learners contribute to.
As a nation and planet, our needs are met by using resources and energy that will run out. To address this, we need to use less resources, use them wisely in a way that allows them to regenerate, and ensure that their use does not harm the environment.
Climate change in particular is having an impact on us, here in South Yorkshire and Bassetlaw, with frequent periods of drought, wildfires and flooding. We have to change the way we heat and power our buildings, and the way we run our business, to reduce our greenhouse gas emissions and to make our campuses a home for nature.
As educators we have an added duty to teach our students about sustainability, in a place in which sustainability is commonplace.
The RNN Group is committed to being sustainable in all that it does and is looking at ways it can do this whilst being innovative.
It launched an internal competition earlier this year for a Learner to come up with a logo for the Group to represent the sustainability focus that we have and all the work we do to work towards a more sustainable and green future.
Our winning Student, Gracie Firth, an 18 year old graphic design student studying at Rotherham College, details her story and journey into creating this design. In essence, Gracie feels that leaves play an important role in the earth's biosphere and they work together to support life in nature and keep plants alive. In her logo, it represents how humans need to work together to make changes and keep the environment and natural habitats alive.
Gracie wanted learners to help the College and students to recognise the environmental issues and how we can overcome them.
We have listed a number of sustainable activities that the RNN Group do to combat the issues surrounding the climate crisis.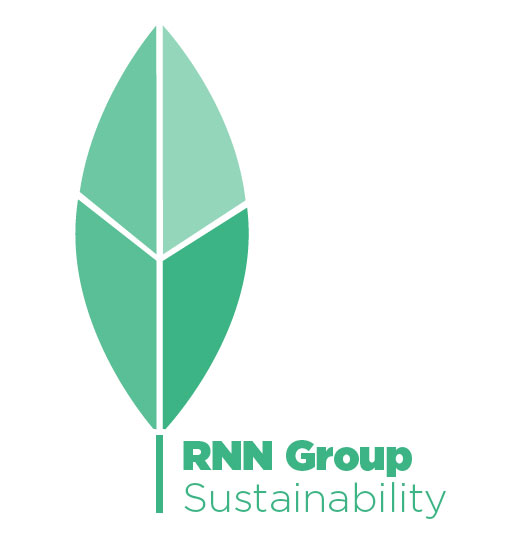 The sustainable things we do at RNN Group
As a Group, here is a list of the many actions we are taking to reduce our footprint:
Energy and utilities
The Group has a number of solar panels / solar heaters and wind turbines as well as a ground source heat pump at one college to produce clean energy, as well as capturing rainwater for use and moving to LED lights.
Travel and travel reduction
We operate a number of electric charging points and have a salary sacrifice scheme for bike users, bike boxes for secure cycle storage and shower facilities for bike users too. Not only that, more meetings are conducted digitally to remove travelling between sites and there are hybrid working opportunities for most staff.
Our Transport provider Zeelo – the first global bus platform to offer 100% carbon neutral services – is committed to all-electric vehicles by 2030.
Since September 2022 Zeelo have:
Saved 10.01 tonnes of CO2 (3.2Kg per rider) on RNN Group bus routes
Taken 2,853 car journeys off the road on RNN Group bus routes
Recycling and upcycling
Our students run clothing rails across the Group for pre-loved clothing to be picked up by another learner and we use recycled wood, metal and plaster across our construction departments as well as recycling cardboard and paper.
Environment and sustainability committee
Our learners regularly talk about ways we can make things better and then act on these.
Google Reference College
Find out more about us being a Google Reference College.
Go local
We make a point of using local contractors and partners as our suppliers.
Flora and Fauna
We are currently joining in with 'No Mow May', we have wildlife gardens, woodland management in operation, we are part of the Big Schools Birdwatch and Dearne Valley College is a Hedgehog friendly campus.
Print and paper
As a Group we have moved to non PVC banners which does not involve the use of fossil fuels, and all paper that we use for our literature is FSC graded or recycled. Not only that, we are moving away from printing lots of guides and using QR codes linked to our website on small business cards to reduce our use and reliance on paper.