Degrees on your doorstep at University Centre Rotherham
Whether you're looking at continuing your studies, are planning to return to education, or want to upskill and change careers, study locally and save thousands on your degree at University Centre Rotherham.
Hailed as a game changer for closing the skills gap in the town, the £10.5m University Centre Rotherham opened to students in September 2018. Over the last five years, UCR has proved to be the single most important development for increasing access to higher level skills, degrees and training for people living in and around Rotherham.
As a university centre, UCR delivers courses differently to traditional universities. Students aren't just a number in a big lecture hall, overwhelmed by multiple campuses spread across a city. Smaller class sizes mean tutors can take the time to get to know each student as an individual.
Courses are classroom based within one building, with all the facilities students could need to complete their studies, from soundproof pods for personal study to the two-storey library and computer space. There is also a music studio, photography studio, conference room and outdoor auditorium.
While it may be smaller in size, it's bigger in opportunity. Our diverse range of vocational-focused degrees have been designed with future employability in mind. Kick-start a career in sought-after areas of industry like engineering, business, computing, and education. Get hands-on learning in a range of subjects like arts and media, music and theatre, or hair and beauty.
At UCR, there are no random degree courses. They all follow on from those available at RNN Group's three colleges, Rotherham College, North Notts College and Dearne Valley College, so students have excellent routes of progression from entry level right up to masters degrees.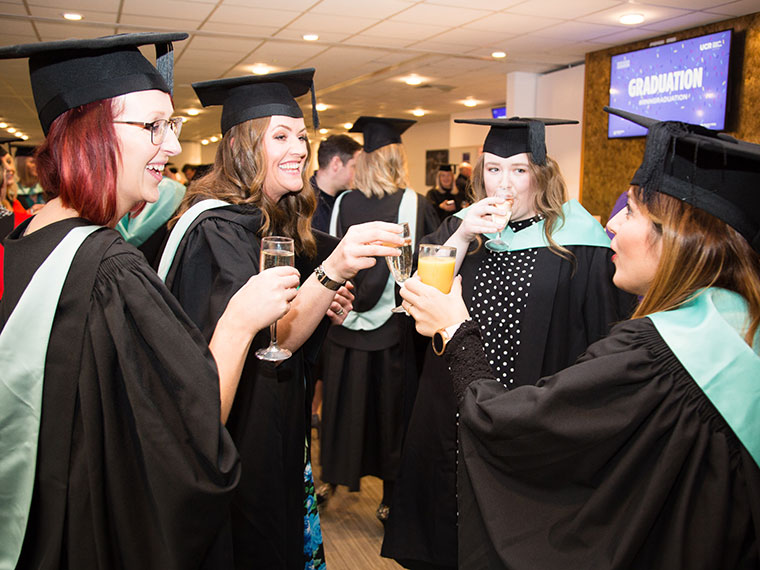 Emma Briggs is part of the first cohort of masters degree students at UCR, currently studying an MA in Education and Professional Development which she completes part-time in the evenings.
She has been an RNN Group student since 2014, having previously completed a foundation degree in travel in tourism and her Post-Graduate Certificate in Education (PGCE), and has been impressed with the opportunities to study in her hometown.
"I was never bothered about the uni lifestyle, I just wanted to get my degree. It worked well that I could live at home while studying. UCR is great as you don't feel like you're drowning in a big ocean. They're not easy courses; you're encouraged to be independent with reading and research but I've always had such great support from tutors and library staff."
Emma now works as our schools' liaison and events officer, promoting the colleges and university centre to young people aged 16 to 18. She says: "I love it as there is still an element of teaching, combined with meeting prospective students at events or in schools. I've been in their position and always tell them how lucky they are to now have so many opportunities above and beyond college or sixth form."
Many courses here at UCR are offered part-time, allowing students to fit studies around work and family life, great for mature learners heading back into education. The full-time courses are compiled into two or three full days a week, rather than an hour lecture here or there.
All courses are accredited by other Yorkshire universities such as Sheffield Hallam, Huddersfield and Hull. But the UCAS tariff points needed to study at UCR are generally lower – 48 or 64 compared to 80 and 112.
Located in Rotherham town centre on the site of the former Doncaster Gate Hospital, close to the bus and train station, students at UCR can achieve their career aspirations without the need to live away from home or travel long distances.
But one of the biggest pulls to studying at UCR is the cost. Ending up with over £45,000 of student debt can be a real barrier when choosing whether to carry on in education. However, full-time courses are £6,900 per year of study, far less than the average £9,250 course fees at other universities, making UCR an affordable option without compromising on the quality of learning.
If you haven't yet applied to university for courses starting September 2023, have changed your mind about your current course choice, or your circumstances have changed, you could still become a UCR student through Clearing.
Clearing is open until Tuesday 17th October 2023 for any students who have exam results and no offers, or conditional offers but lower results from those grades predicted. If you're unsure about how Clearing works, visit our FAQ page.
Subscribe to our newsletter on LinkedIn
Subscribe