Steer Your Career: North Notts College Launches Sustainable Automotive Training Centre
North Notts College has officially unveiled its new Sustainable Automotive Training Centre (SATC) today, following an extensive refurbishment that took place earlier last year.
More than £500,000 was invested through the Government's Strategic Development Fund (SDF) towards developing this revolutionary facility. Introduced in spring 2022, the SDF seeks to promote innovation, economic growth, and strategic development among Further Education (FE) providers across all areas of England.
Using this funding, the former motor vehicle workshop has been transformed into a cutting-edge training centre specialising in Hybrid Electric Vehicle (HEV) and Electric Vehicle (EV) training. Upgraded features include the installation of solar panels, two-post lifts, an HEV training rig, three internal charging points, and six external EV charging stations. Additionally, one full EV, one Plug-in HEV, and two micro HEVs have joined the existing conventional fleet.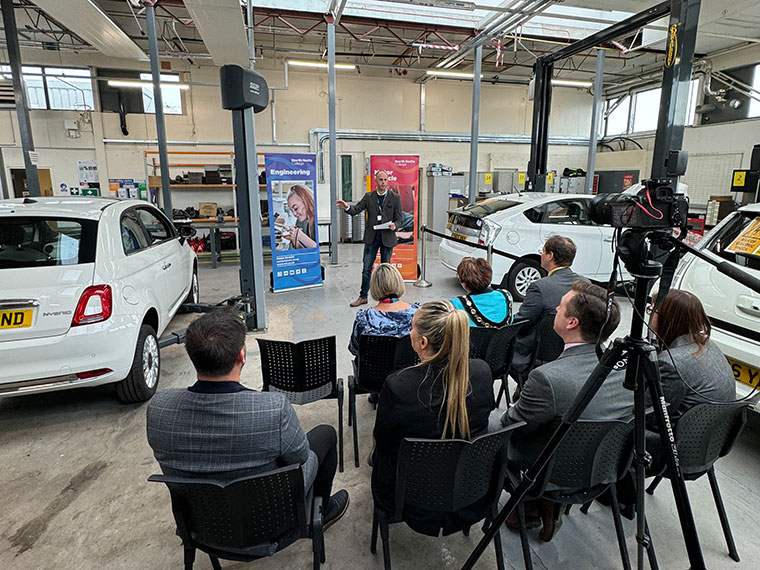 With the ban on new combustion engine vehicles taking effect in 2035, more people are turning towards hybrid and electric models. As a result, demand for experts who can service and repair these vehicles is growing rapidly. SATC will play a vital role in training individuals for these emerging opportunities, ensuring they are fully equipped to meet the needs of this evolving industry.
From September 2023, the Sustainable Automotive Training Centre will offer a variety of courses for ages 14 and above, including:
Full-time courses
City & Guilds Entry 3 Diploma in Vehicle Systems Maintenance
IMI Level 1 Diploma in Automotive Maintenance
IMI Level 1 Award in Automotive Maintenance
IMI Level 2 Diploma in Vehicle Fitting Principles
IMI Level 2 Sub-Diploma in Light Vehicle Maintenance & Repair
Adult courses
IMI Level 1 Award in Electric/Hybrid Vehicle Awareness
IMI Level 2 Award in Electric/Hybrid Vehicle Routine Maintenance Activities
IMI Level 3 Award in Automotive Refrigerant Handling
Apprenticeships
IMI Level 2 Auto-care Technician Apprenticeship Standard
IMI Level 3 Service & Maintenance Technician Apprenticeship Standard
At the inaugural ceremony, students, distinguished guests, and faculty members from RNN Group gathered to officially open the centre in a special ribbon-cutting ceremony.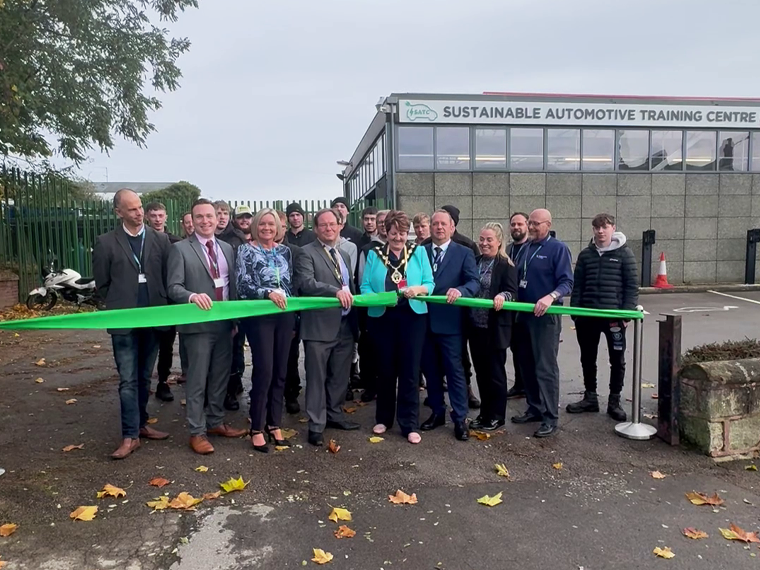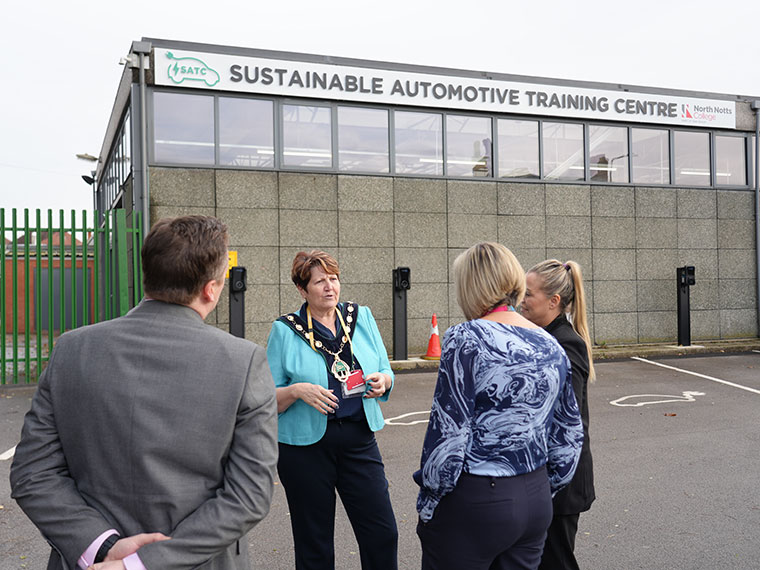 "It has been an honour to officially open this facility today and see first-hand how local students will one day be at the forefront in helping to achieve our net zero ambitions by reducing our reliance on carbon-emitting vehicles.

"By 2040, our Council has a vision for Bassetlaw to become the greenest, most sustainable district in which to live and work, as we build on our legacy of energy production, manufacturing, and logistics to power the net zero economy.

"This state-of-the art training centre will support that vision and equip our future workforce with the skills and knowledge that will open doors to exciting career paths, drive innovation within the automotive sector, and help to attract talent and investment to our town.

"The ethos of moving to greener technologies will also help us all to mitigate the impacts of climate change and foster a greener, more environmentally conscious community."

Cllr Deborah Merryweather, Chair of Bassetlaw District Council
"RNN Group aspires to be a sustainable education and training provider. With the opening of the SATC, we are providing students with skills for the future in e-vehicles, filling an important skills gap in the local green economy. By providing the charging points to staff and students, we are encouraging the use of low- and zero-emission vehicles, which will reduce the impact on the environment of commuting to North Notts College. Any excess electricity generated by the Centre's solar panels will also be used by the College, increasing the proportion of renewable electricity we use."

Gregg Bristol, Environmental and Sustainability Lead at RNN Group
"Ever since the refurbishment, my learning experience has taken an exciting turn. With the addition of more vehicles, brand new equipment, and an expanded workspace, we can now work on various tasks simultaneously. These improvements have not only transformed our learning environment but also giving us the chance to explore sustainable vehicle technologies."

Anthony Wood, Level 2 student studying Diploma in Vehicle Fitting Principles
Please visit our Motor Vehicle Courses page for more details. You can also contact our Student Services team by emailing contact@nnc.ac.uk or calling 01909 504500.
Subscribe to our newsletter on LinkedIn
Subscribe