Adult learning: What are your options at RNN Group?
College isn't just for school leavers. Every year, hundreds of adults head back into education, proving that ambition has no age limit.
Whether you're looking to retrain in a different industry, get back into work after raising a family, enhance your skills to secure a promotion, or just do something for you, it's never too late to learn new things.
If you're over 19, live in South Yorkshire or North Nottinghamshire, and are considering going back to college, then the RNN Group of Colleges could have a course for you.
Our campuses include Rotherham College, North Notts College, Dearne Valley College, and the University Centre Rotherham. But we also offer online, community based and distance learning courses to work around your other commitments.
Many of our adult courses have been designed around employability so that learners gain the right skills to secure the career they've worked hard for. If you're studying at level 3 or above and need to pay your course fees, there are advanced learner loans available that are only repaid once you're earning over £27,575 a year.
Not really sure what your ideal career is just yet? Don't worry. We are one of the first further education providers to have careers coaches specifically for adult learners. As well as giving careers advice, they can help with things like CV writing and mock interviews if you need it.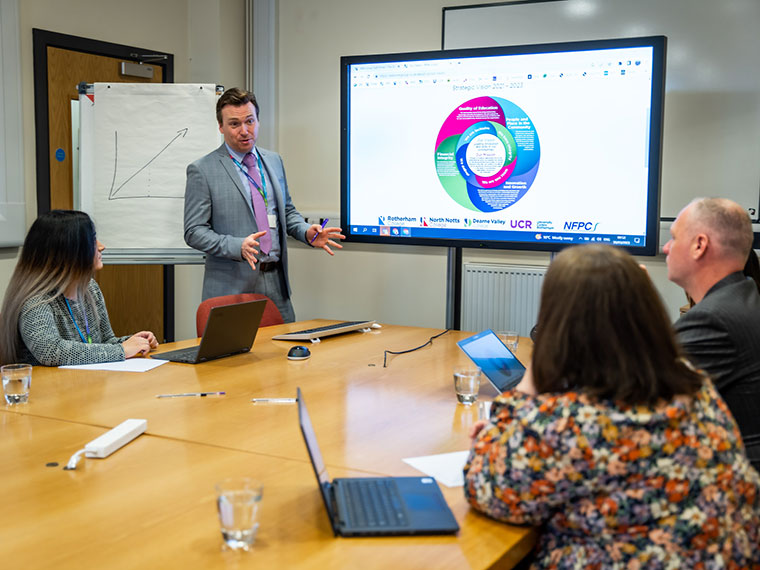 Here are just some of the course types available to adult learners at RNN Group.
I want to do something for me…
Distance learning
If you've been out of the education pool for a while, distance learning is a great way to dip your toe in before jumping feet first into a full-time course.
There are no classes or exams. Instead, you just log in online and learn at a pace that suits your lifestyle and commitments like work or family. That might be a couple of hours on a Saturday morning before you start your weekend, or an hour in the evening once you've finally got the kids in bed.
Distance learning is totally flexible, but the best part is that it's free if you're over 24 – no matter what wage you earn. We offer a vast range of CACHE-accredited level 2 distance learning courses that cover a range of sectors and interests.
Just some examples of our distance learning courses include understanding autism, principles of dementia care, creating a business start-up, and warehousing and storage.
Juwairiyyah Nisar is an adult learner who fits her studies around her two young children and part-time role as University Centre Rotherham's learner recruitment and reception officer.
She has completed three distance learning courses in a short space of time: principles in customer service; business administration; and information, guidance and advice. She is now looking at other courses to further enhance her learning, such as team leading, and health and nutrition.
"The adult courses are extremely flexible and you study at a pace to suit your lifestyle. I'm very pleased and satisfied with how beneficial they have been for my career. I have developed my skills further to use in my current role and have had such positive feedback from students, colleagues and tutors about being caring and pleasant to speak to. I've learnt it's the little things that go a long way, such as always saying hello, ask people if they're okay and making them feel welcome."
Find our full list of distance learning courses here.
Community courses
As well as online and campus-based learning, did you know that RNN Group also offers free short courses within the community?
These informal sessions are taught at venues across our catchment area in Rotherham and Dearne Valley. You'll find classes at local libraries or community centre in Kimberworth and Thorpe Hesley (S61), Rawmarsh (S62) Thurnscoe (S63), Mexborough (S64) and Maltby and Wickersley (S66).
The weekly, two-hour sessions last for between six and 12 weeks depending on the chosen course. Many of them are hobby-based skills such as machine or hand-sewing, silk painting, or flower arranging. We also offer a free British Sign Language course.
Find our full list of community courses here.
I want to upskill…
Adult skills courses
These part-time courses take place in the evenings so that you can still work or take care of family alongside your training. They're mostly skill-based courses that cover things like bricklaying, plastering, sports leadership, and beauty therapy treatments. We also offer various ESOL courses for people looking to improve their English language, reading and writing skills, maths and IT.
Find out more about adult skills courses here.
Professional courses
Whether you want to gain employment or enhance your role, professional courses provide you with new skills for your chosen industry. Most are part-time and have opportunities to progress onto further learning.
At Dearne Valley College, you can study things like forestry and arboriculture, barbering and hairdressing, beauty therapy, counselling, and personal training. At Rotherham College, the professional courses include ACCA accounting, supporting teaching, welding, and nail technology.
Find the full list of professional courses here.
I want to graduate…
Access to Higher Education courses
An access to higher education course does what it says on the tin. It lets you access degree-level education if you don't already have any level 3 qualifications such as A Levels or a vocational equivalent. An access course lasts for one year, after which you'll have the relevant entry requirements to move on to level 4 or above qualifications like foundation or bachelor's degrees.
At RNN Group, all three of our colleges offer access courses across a number of key industries like computing, art and design, or criminology and policing. In adulthood, many people decide they want to retrain to work in healthcare and our access to health science course is very popular with people who aspire to be midwives, nurses or paramedics.
If you do progress to higher education, your access course fees will be written off.
Find out more about access courses here.
Higher Education
Higher Education opens up a world of opportunities by taking your taking your professional prospects and earning potential to the next level.
At RNN Group, we offer HNC/Ds, foundation degrees, bachelor's degrees and master's degrees at our dedicated Higher Education campus, University Centre Rotherham. This £10,5m facility opened in September 2018 and has proved to be the single most important development for increasing access to higher level skills, degrees and training for people living in and around Rotherham.
UCR focuses on vocational-focused degrees that have been designed with future employability in mind. Kick-start a career in sought-after areas of industry like engineering, business, computing, and education. Get hands-on learning in a range of subjects like arts and media, music and theatre, or hair and beauty.
Many courses are offered full and part-time and are accredited by other Yorkshire universities such as Sheffield Hallam, Huddersfield and Hull. But the UCAS tariff points needed to study at UCR are generally lower – 48 or 64 compared to 80 and 112.
Our course fees are also much cheaper than other universities. A full-time course is £6,900 compared to the average £9,250, making UCR an affordable option without compromising on the quality of learning.
Once you've finished your studies, there's a big graduation ceremony that takes place each November at the New York Stadium where your proud family and friends can see you don a cap and gown.
Click the following link to learn more about UCR and our Higher Education courses.
Subscribe to our newsletter on LinkedIn
Subscribe