Teach Too Showcase Event Focuses on Employer Engagement
RNN Group, which comprises of Rotherham College, North Notts College, Dearne Valley College and University Centre Rotherham (UCR), hosted a showcase event that evaluated the purpose and success of the Teach Too pilot project, an Education and Training Foundation development programme aimed at addressing quality improvement in technical and vocational teaching and learning.
The pilot project has focused on courses in Catering and Hospitality and Computing and Digital, but students from Childcare, Health and Social Care and Welding and Fabrication courses were invited to the event. This was not only to gain knowledge of the Teach Too project, but also to voice their opinions on why working with employers is valuable, to further develop their skills when studying a qualification.
Interim Principal Jason Austin introduced the project to students, staff and employers that attended the event, and Will Sibley, Curriculum Manager for Catering and Hospitality and Leanne Brunt, Curriculum Manager for Computing and Digital courses led the event.
Jason said, "There are three main reasons we want to work with local employers – to change and adapt to the needs of our local community, to address the current skills gaps within the region, and innovate our curriculum offer that enables our learners to develop skills that are the stepping stone to their goal careers.
"In order to meet our aims, we're providing opportunities for staff to refresh their knowledge of their professional industry, as well as actively inviting employers to meet with our learners to develop skills in specialist areas."
A workshop also took place to encourage students and staff to discuss why employer engagement is important, and how this should be carried out, whether it be in the form of masterclasses or work experience.
Rory Thackery, a Level 3 Computing student said, "I think working with employers during my qualification is a good way for me to understand better what I need to secure my first digital role. By getting involved in the Teach Too project, I've realised that not only technical skills are important, but softer skills too, such as communication skills and team working."
Employers including Rotherham Metropolitan Borough Council (RMBC) worked closely with staff and students during the workshop to voice opinion from an employer perspective.
Jenny Watts, Employability and Skills Advisor from RMBC, said, "The ultimate aim for a student should not be just to gain a qualification, but develop the right skills to find work and the start of their career. By working with employers, students will be able to leave college fully-equipped to work towards their long-term career goals."
We are always looking for local employer input to ensure our curriculum and placement opportunities are of the highest standards, so if you would like to get involved in the Teach Too project or feel that you can contribute, please call Rebecca Blackburn, Head of Quality* on 01709 722874.
*Correct at time of publication.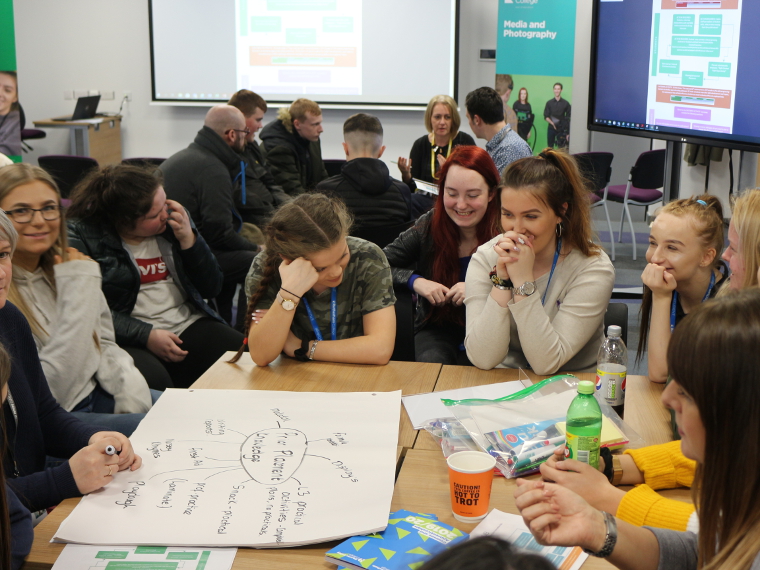 Subscribe to our newsletter on LinkedIn
Subscribe