RNN Group Students go Electric!
Students from the RNN Group's three colleges – Rotherham College, North Notts College and Dearne Valley College – will be transported between the Group's campuses on a fully electric bus powered by Zeelo, beginning on Monday 20th March. The initiative is part of a trial for net-zero emissions school transport enabled through a partnership between Zeelo and its local bus operator, a family run business, Wilfreda Beehive.
Zeelo have committed to zero-emissions fleet in the UK by 2030 and have offered a test & learn 4-week trial of their fully branded Zeelo electric bus to Wilfreda Beehive, with RNN Group students having the opportunity to ride the electric bus and experience it first hand on an existing regular bus commute to school to each of the three colleges. In addition, Zeelo has organised an education roadshow to teach students the value and potential of emissions free shared transport.
The bus will depart from North Notts College, Worksop Campus, in the morning with students from various motor vehicle departments trialling the bus which will go to Dearne Valley College via Rotherham. Once at Dearne Valley College, students will have an introduction to Electric Vehicles from Zeelo and Wilfreda Operations teams before being split off into subject groups with their tutors to discuss the electric vehicle technology and its relevance to their course. Students will also have time to speak with the drivers and take a tour of the electric buses at Dearne Valley before they ride back to North Notts College via Rotherham College.
Jason Austin, CEO / Principal of RNN Group commented, "We are delighted to be a part of this opportunity and for our students to be able to trial the electric bus and learn more about Green technologies on the day from Zeelo and Wilfreda Beehive.
"RNN Group is committed to developing an Environmental Management System, with a focus on the development, delivery and monitoring of a number of sustainability projects focused on environmental management, energy reduction, active travel, student and staff engagement. This new development is very timely and we are grateful to Zeelo and Wilfreda Beehive for allowing us to be a part of this day and commend Zeelo especially for its zero-emissions commitment by 2030."
Sam Ryan, CEO and Co-Founder of Zeelo commented, "I am delighted that RNN Group has jumped on board our net-zero program alongside our corporate clients and our network of bus operator partners in the UK. This buy-in is so important. Zeelo's commitment to make the switch to 100% emissions-free smart buses is backed up by a robust and detailed plan of action that allows us to ensure that we will be able to achieve a sustainable transition and illustrate to the wider industry that it's feasible, affordable and that there's enormous appetite for green transport. Going green requires the right partnerships, educating all relevant stakeholders, including our children and also requires real life trials to allow all to feedback and improve the service."
Phil Haxby, Director at Wilfreda Beehive commented, "We are absolutely delighted to be involved in this battery electric coach trial in partnership with Zeelo. Over the last 2 years we have invested over £3million in cleaner Euro V1 diesel buses and coaches and the next logical step is the move to zero emissions. We very much look forward to gaining valuable insight and experience from this project to assist us in our future investment strategy."
For more information on the RNN Group, please visit: https://www.rnngroup.co.uk/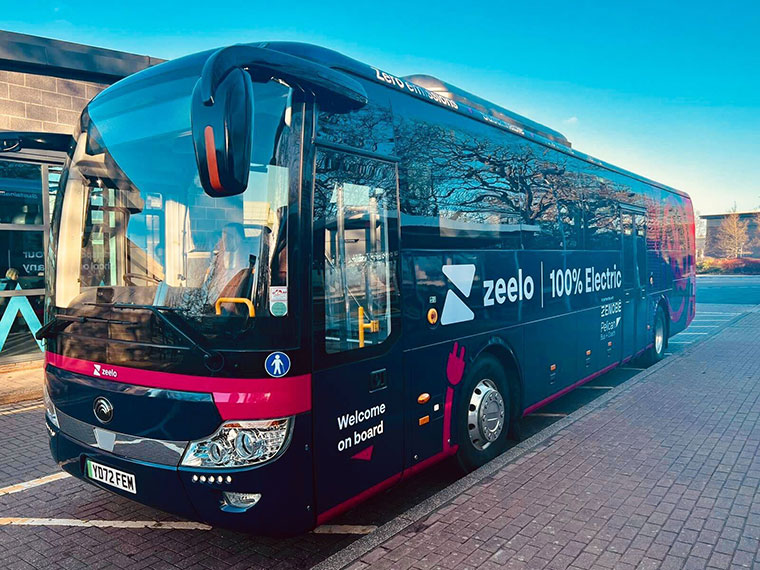 Subscribe to our newsletter on LinkedIn
Subscribe