We will work together to tackle climate change and nature recovery, pledge Rotherham bosses: Rotherham Together Partnership news release
Rotherham's leaders came together to pledge their support to work in partnership to ensure climate and nature change is addressed across the borough.
At the twice yearly event of the Rotherham Together Partnership (RTP) held at New York Stadium, leaders of the town's biggest organisations signed a pledge to tackle global challenges locally.
The RTP was first set up in 2017 bringing together local organisations, including the Council, local NHS, Rotherham College, South Yorkshire Police, alongside representatives of the private and voluntary sectors.
The aim of the RTP is to improve the quality of life for everyone in Rotherham, by delivering innovative projects together. By working together Rotherham now has a new urgent and emergency health care facility, a university centre, a major theme park, and further schemes in the town centre and across local high streets. Building work is rapidly progressing on the Forge Island leisure development where a cinema, hotel, and new restaurants have signed contracts for unit space.
Through the Levelling Up Fund, partners including Wentworth Woodhouse, Gulliver's, Maltby Academy, and Magna have secured investment that will boost the borough's leisure and tourism sector.
The event highlighted these achievements and the future milestones as set out in the Rotherham Plan 2025.
This includes an agreement to work together to tackle the impact of climate and nature change locally.
Climate change is resulting in serious challenges such as rising global temperatures, changing weather patterns, rising sea levels, and increased extreme weather.
Locally the effects of climate change have been felt in Rotherham. In recent years, the borough has experienced flooding and extreme storms and further afield wildfires across parts of South Yorkshire. This means climate change is not only a global but a local problem with significant local impacts particularly for the most vulnerable residents and communities.
Forecasts anticipate hotter, drier summers and milder, wetter winters with more extreme weather events.
To combat this, the RTP has created a Climate and Nature Charter with a focus on a more sustainable future, which senior leaders signed.
Rotherham Council Leader and chair of the RTP, Councillor Chris Read said:
"As a Council we declared a Climate Emergency in 2019 and we have followed this up with an Action Plan to reduce our organisational emissions, plus a policy review so we make sure we tackle climate change as part of everything the Council does.
"Our plans include collaborating with partners and residents in striving for a net-zero Rotherham, which we will work together through this Charter to accomplish."
Carrie Sudbury, Chief Executive of the Barnsley and Rotherham Chamber of Commerce, added:
"The Chamber represents around 1,100 businesses across the region and sustainability and net-zero is very high on our agenda. Through signing the Charter, we are showing a commitment towards taking concerted action on climate change."
The Charter asks organisations across Rotherham to pledge to act now, leading the way and making a difference to their communities. It covers ten principles that organisations can commit to. Through working together, organisations can build towards a more sustainable future across the borough.
The principles are:
Create and deliver a Climate Change Action Plan to achieve net-zero by 2040.
Plan for the impacts of climate change
Act as leaders throughout Rotherham in relation to climate and nature crises
Rethink the materials people buy and use – refuse, reduce, reuse, repurpose and recycle.
Work towards the removal of single-use plastics from all operations
Collaborate with partners, share knowledge, and promote work that is taking place.
Support local supply chains and encourage green regional growth.
Protect nature and support its recovery.
Encourage others in Rotherham to reduce their impact on the environment.
Be transparent – set targets and report on them.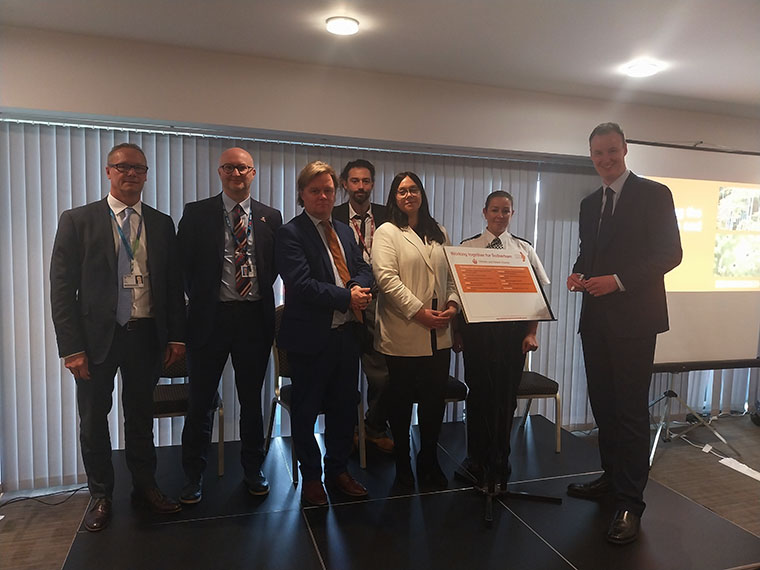 The Charter recognises that action means something different to each organisation.
Signees of the Charter will be encouraged to take a flexible and innovative approach to the delivery of these commitments. This could be through the way an organisation runs its business, leading the way through digitalisation, or by interacting and sharing knowledge with partners and supply chains.
By signing this charter, partners will demonstrate their commitment to acting on climate and nature recovery. They will be pledging to act now, irrespective of where their organisation is in its journey towards sustainability.
Organisations will be supported to plan their activities and demonstrate their commitment through the Climate Change team at the Council, working with the RTP.
Organisations can find out more on the Rotherham Together Partnership website. 
Rotherham Together partners who signed the charter are pictured:
Rotherham Council
The Rotherham, Doncaster, and South Humber NHS Foundation Trust
Barnsley and Rotherham Chamber of Commerce
Voluntary Action Rotherham
RNN Group (Rotherham College)
South Yorkshire Integrated Care Board
South Yorkshire Police
Subscribe to our newsletter on LinkedIn
Subscribe